Seller's Inspection Program
Get an Edge on your competition with a new and innovative way of promoting your home!!
ARE YOU GOING TO WAIT UNTIL YOUR HOUSE IS SOLD TO KNOW IF IT WILL PASS A HOME INSPECTION OR NOT?

The fear of the unknown is the one of the worst fears we can face and your home is most likely your biggest investment. Are you going to sell your house this way? I would not recommend it!

ARE YOU HOPING THAT THE HOME INSPECTOR WILL MISS THOSE THINGS THAT YOU ARE AWARE OF?

Although there are some home inspectors that are not very thorough, most are. If there is something incorrect or in need of repair most good home inspectors will find it. Most buyers would rather be aware of any issues up front, that way they can plan for the expense. Few houses on the market will not need some work done. If your house does need some work performed, hiring someone of your choice and in your time frame to complete the work, versus hiring someone of the buyer's choice in the buyer's time frame will almost always save you money too!

WHAT ABOUT THE THINGS THAT YOU DON'T KNOW ABOUT?

I have found items such as natural gas leaks in the furnace, a roof leaking only detectable from in the attic, lead water service pipe, high radon levels, mold, asbestos, leaking water pipes, loose or incorrectly wired outlets, and construction that was never completed since the house was new. These are all items that the owners of the home were unaware of and yet they had lived in their homes for over 10 years

MOST SERIOUS BUYERS ARE LOOKING AT MORE THAN ONE HOME, WHAT CAN YOU DO TO ASSIST IN MOVING THEM TOWARDS YOURS?

A pre-inspection will help to set many buyers at ease, and you will have a sign in front of your house advertising the home has been inspected! Would a house sell without a "For Sale" sign?

DID YOU KNOW YOU COULD BE LIABLE FOR SOMETHING YOU WERE UNAWARE OF WHEN SIGNING THE SELLERS DISCLOSURE?

When you, the seller, complete a property disclosure report you raise tremendous liability if the report fails to disclose everything about the house. Sometimes the seller does not know enough about what needs to be revealed. Having an inspection before selling the home will transfer the liability to the home inspection company.
A seller's inspection can provide answers to these questions and many more. In addition it may give your home the edge you need to nudge that prospective buyer toward your home. A seller's inspection assures a smoother closing, and if something is found you have the time to repair it yourself or entertain bids instead of completing the repair under pressure and possibly for more than you would normally pay.

Details: For pricing see fees and services page.
Why would a buyer trust the same home inspector to inspect the house the sellers hired? Our business was named Honest Home Inspections for a reason.
Why Trust Anyone Else?
The price for a sellers inspection is the same as a buyer's inspection however you get more. Two trips to the home and advertising items - details below.
We will provide you with an initial report to repair any items that may be discovered, then for NO CHARGE we will return to the site one time for a re-inspection of the repaired/replaced items and will then provide you with a computer-generated report complete with enhancing photos that you can share with your potential buyers. The written report is yours and it is completely up to you if you wish to share it with anybody. If you wish to share the report we will provide you with a three ring binder report that you can set out with your other materials and a card holder that will allow your prospective buyers the information to go back to their home and download the report from this website at their leisure. Want to see a sample? Visit our Report Download Page, enter sample (all lower case) as the report ID, and sample as the password, then click "Download". The report will open in the Adobe Acrobat Reader.
A complete home inspection will cover all of the major systems of a house, including landscaping effects on the foundation, structure, exterior, roofing, electrical, heating, cooling, insulation, plumbing, chimneys, gutters and downspouts, siding and trim, attics, interior rooms, and the condition of the basement. We can perform a radon test for you also. A home inspection is a non invasive visual inspection and may be limited by weather conditions, i.e. snow on the roof, snow on the ground, A/C systems should not be run below 60 degrees, etc
Please feel free to call 262-424-5587, or visit our contact page to make an appointment or to ask any questions. You can use the Request an Inspection page too!
What we Provide!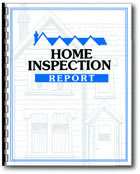 An easy-to-read checklist report with comments and a summary page is provided on site at the end of the inspection. Then a consultation with the seller in regards to what was found will be discussed.
Hanging tags are provided for the following including model numbers and serial numbers on water heaters and furnaces: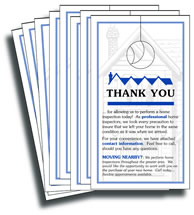 Furnace fuel shut-off valve
Main water shut-off valve
Water heater shut-off valve
Water heater fuel shut off
Hose bib shut-offs
Gas Fireplace shut off valve
But that's not all..........
We will provide business cards with the user name and password that allows your potential buyer to view your report via our website. This has been a very succesful option.
Once the inspection is completed and repairs/replacements are made to your satisfaction we will provide you with a computer generated report in a three ring binder with enhancing photos of the house. We will need to address any concerns or safety issues we may find while inspecting your home, but being up front and honest will save you time at the bargaining table! If any issues are out in the open most potential buyers will just note the defects and expect to have the repairs completed after closing. cards with a login and password will be provided so that your prospective buyers can view your report at their home.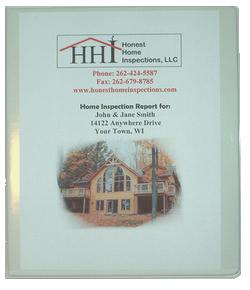 Call now to make an appointment!
This is a limited time offer!